◎☃☯☯
3.5.2019
17.00
Socijalni Eksperiment
– with Petra Belc, Gaby Babic, Greg de Cuir
based on the text list of the film by Dejan Đurković
as part of re-selected
Kino Gloria
1.2.2019
10.00-17.00
The Image is Broken – Das Bild ist unterbrochen
Sequences of Involvement
workshop and reading
31.1.2019
20.00
Language is Skin – Scripts for Performances
talk with Amal Alhaag, play List by Maria Guggenbichler,
drinks by Pieter Verbeke
reading
«Are You An Underground? A Ship's Deck Or A Terrace»
book launch
26.1.2019
19.00
«A Play for Recorded Voices
– Time Traveller Version»
performance
16.12.2018
15.30
reading
«Back Sides and Phantom Files»
December 2018
- Some directions.
- Approaching.
- I have no money and she has no money.
- I am under the influence of no one.
- This is how it begins.
text for a poster in public space
design by Kambiz Shafei
1.12.2018
19.00
«Back Sides and Phantom Files»
Aktionstage – Phasenweise nicht produktiv
performance
with the contribution of Sophia Köhler, Ashley Lamm,
Martin Bogisch, Tabea Färber, Corinna Rausch
27.11.2018
11.00
«Care as Confrontation – A Professional Performance»
screening and workshop
How to
MA Fine Arts, Zurich University of the Arts
Aktionsraum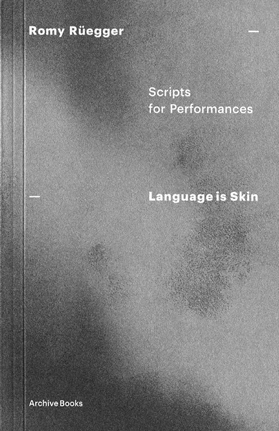 Archive Books and Scriptings Berlin 2018
Other recent Performances, Publications and Gatherings:
Binary Codes as NO, Werkschau, performance, Haus Konstruktiv Zürich 2018
Binary Codes as NO, Open Studio Day, performance, Gasworks London 2018
Synthetic Stream Plays (personal), performances, New Swiss Performance Now, Kunsthalle Basel 2018
I am the Wall, Performance Script in: Grounds for Possible Music, Errand Bodies Press, Berlin 2018
| | | |
| --- | --- | --- |
| Feminist Fictions Research School – in collaboration with Chantal Küng, visit at the Archive of the Archinaute in Genova and writing workshops in the studio of Riikka Tauriainen, Genova 2018 | | |
| | | |
| | | |